DETAILS
I was introduced to the project of creating a responsive web design for Dr. Riley Williams, a renowned Orthopedic Surgeon at Hospital for Special Surgery. Dr. Williams has performed surgery and provided care for some of the top athletes including Paul George and Deron Williams. He's currently the Head Team Medical Doctor for Brooklyn Nets, NY Red Bulls, and USA Basketball.
Dr. Williams wanted to revamp his existing website and was asked to help rebrand to showcase his approach and knowledge regarding Orthopedic services. By doing so, I hoped to help him gain more patient bookings and increase online and social media presence.
Client: Dr. Riley Williams
Scope: Branding, Web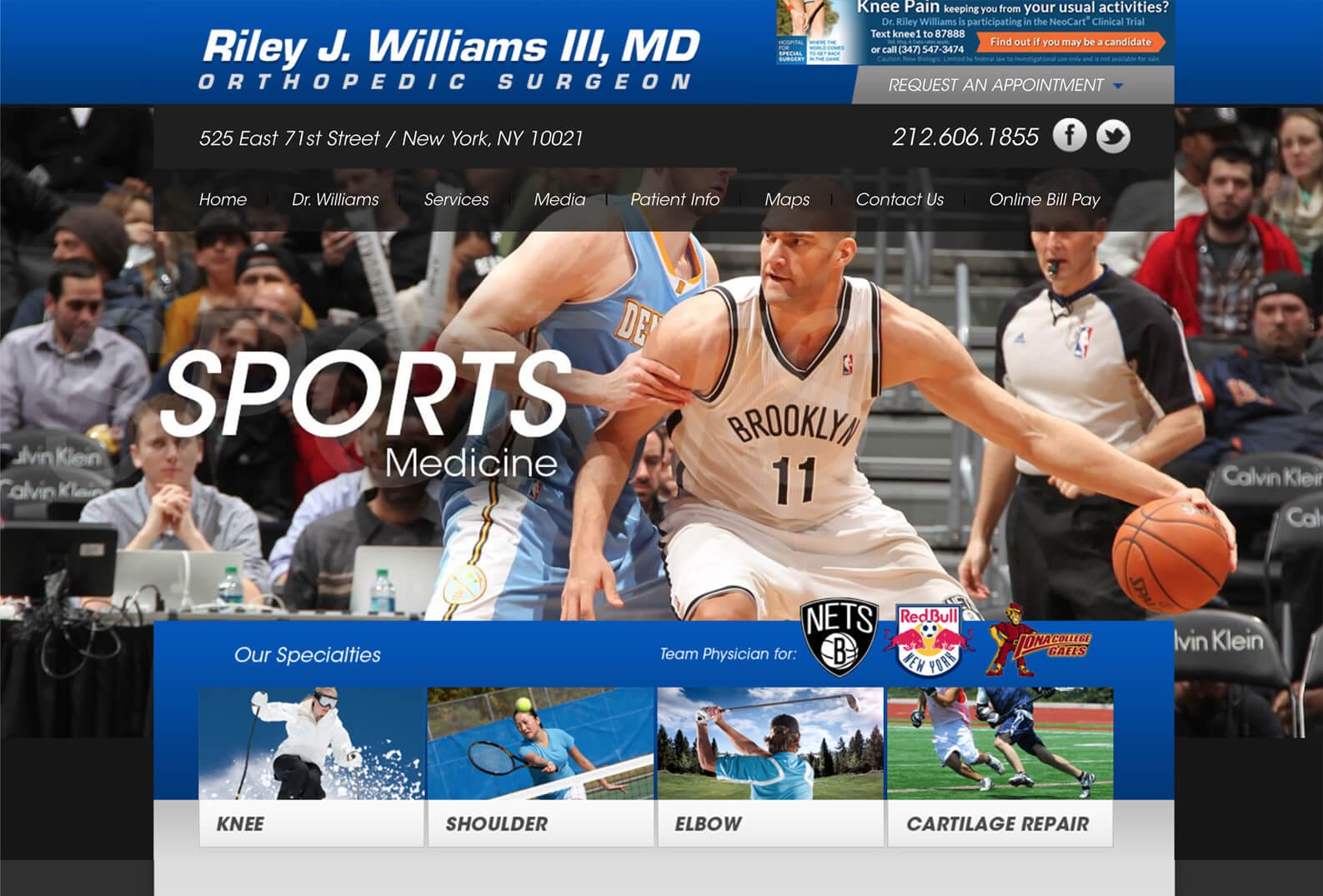 OLD WEBSITE
The website was created 10 years ago, since then only the content has changed. The design patterns were outdated and there were many components on the page that didn't flow from one to the next. Overall, the look of the homepage was cluttered and not mobile friendly. The greatest challenge with the old website was that it was static, meaning that updating content and adding pages were costly in both time and resources.
DESIGN & BRANDING
I produced a logo with a minimalistic option of a runner which symbolized a runner in action. This way I managed to combine both the illustration of a runner and parts of the body as an element. The color palette of blue and white was chosen according to the clients' expectations. The blue color gave the feeling of stability and the slight gradient made the logo more modern looking which responded to the current brand strategy. Also, a monochromatic variant was provided to be used in cases when color couldn't be applied.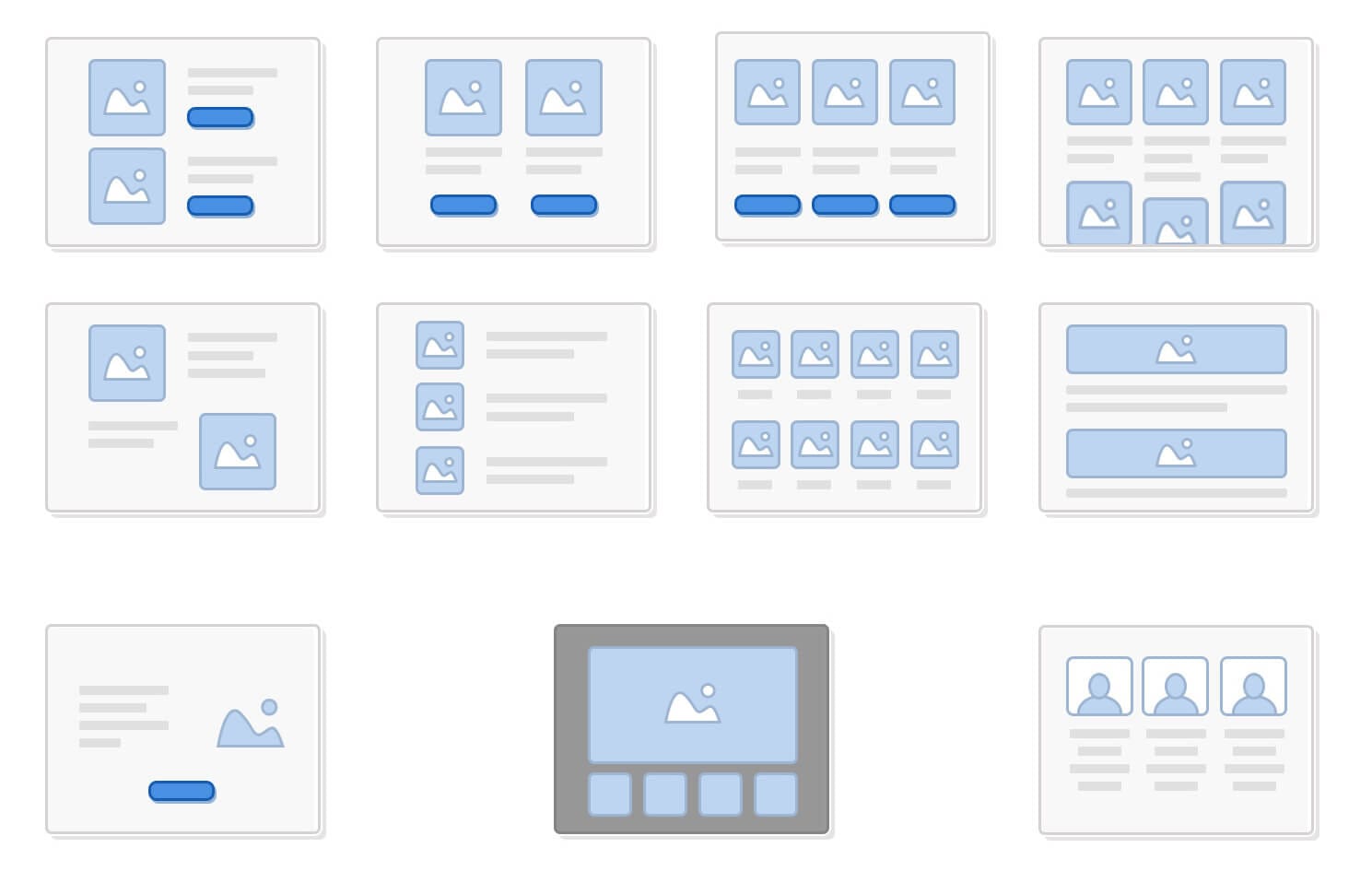 WIREFRAMES
The next step was to outline and prototype different sections of the website. Since it's a content heavy website, the greatest challenge was to be able to layout all the different content in an organized, aesthetically pleasing way. I organized the layout of every page, making them cleaner and more modern. I designed a number of page templates to organize varying types of content.

CLEAN USER EXPERIENCE
I wanted to feature a clean information architecture and navigation for easy access. The homepage is engaging while serving as an effective portal to deeper sections of the website. I designed using simple, straightforward navigation along with graphical maps and icons to enhance usability. The site uses large, high contrasting fonts, easily read by those with vision issues.
BACK END
One of the goals of Dr. Williams was to be able to update the site frequently with updates and his research publications. I implemented WordPress content management system to easily be able to upload and edit new pages, news posts and customer testimonials. I also developed advanced functionality, such as image gallery, advanced application forms and unique posts customized for each page's style.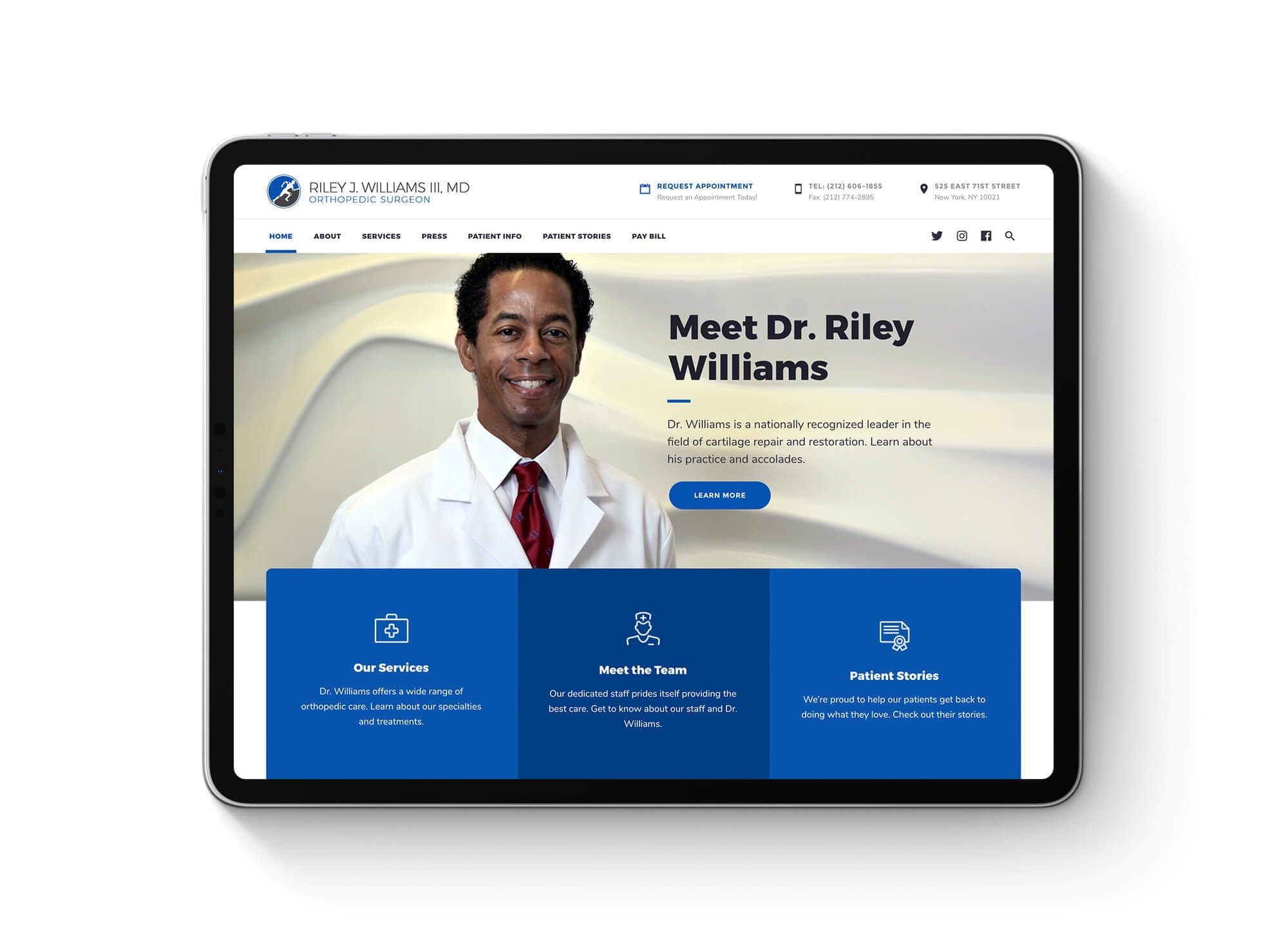 IMPACT
The new site is faster, easier to use, and more interactive to showcase the breadth and depth of orthopedic services. My goal was to create a compelling design for visitors that conveyed a trustworthy, great first impression of Dr. Williams' practice. His website has also moved up in Google search results for orthopedic services and has created a bigger online and social presence.